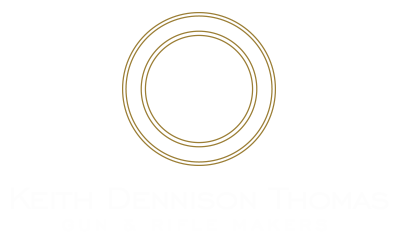 Biog
After years plying his skills for Britain's most prestigious gunmakers, Keith Dennison Thomas is now building bespoke guns and rifles that bear his own name.
The son of an African professional hunter, Keith Dennison Thomas spent his childhood in safari camps across Southern Africa, listening to his father's clients discussing the merits of some of the world's greatest guns and rifles—those made by Purdey's, Holland & Holland, Westley Richards, and Rigby's. "Since then," Keith says, "I have been fortunate enough to apprentice at Rigby's, advance my skills at Purdey's, and serve as foreman at Westley Richards."
A shooter and avid hunter since childhood, it wasn't long in life before Keith discovered his sole ambition was to make quality guns and rifles. He now makes bespoke guns and rifles under his own name, with bolt and double rifles a specialty, as well as serving as a free-lance action maker to many of Britain's best-quality gunmakers.
Keith believes passionately in hand-crafted bespoke guns, "To me when you pick up a mass-produced gun, its just a tool, but pick up a bespoke gun, hand-made with pride and passion, and it feels alive and completely individualistic".
A British citizen born in Zimbabwe, Keith moved to the UK when he was 18 and was offered an apprenticeship at Rigby's in 1994 by then-owner Paul Roberts, and trained under Paul Willis and Dave Perkins, both gunmakers (actioners) of great renown. When Rigby's was sold in 1998, Keith was offered a job at Purdey's where for the following next nine years he specialised in building bolt-rifles, regulating double rifles, as well as learning double-gun action-making under Phil Butcher, one of the most experienced and highly regarded Purdey craftsmen. Keith was recruited to Westley Richards by then owner, the late Simon Clode, where he soon rose to become foreman at the Birmingham firm's new factory. Along with production manager, the late Chris Soyza, he was instrumental in reintroducing the firm's formal apprenticeship program, as well as developing Westely's new sidelock double rifle.